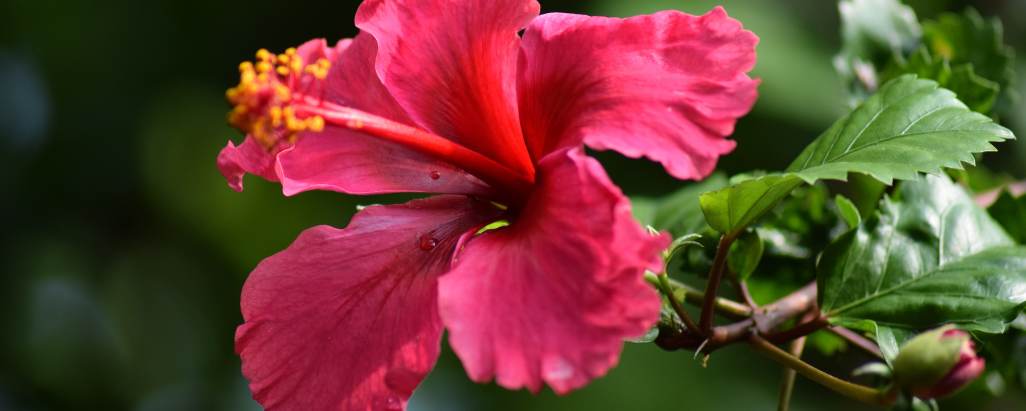 Did you know that Nigerian author Chimamanda Ngozi Adichie named her first novel Purple Hibiscus after the delicate Hibiscus flower?
History
Hibiscus is a genus of flowering plants in the mallow family, Malvaceae. The genus is quite large, comprising several hundred species that are native to warm temperate, subtropical, and tropical regions throughout the world. The eight hibiscus species that are known globally today were originally native to Mauritius, Madagascar, Fiji, Hawaii, and either China or India.
Health Benefits
The tea made of the calyces of Hibiscus is known by many names in many countries around the world and is served both hot and cold. The beverage is well known for its vibrant red color, tartness, and unique flavor. It also supports health and vitality because of its vitamin C content. A cold beverage can be prepared by first steeping the petals in hot water until the colors are leached from the petals. Fresh juices, ice teas, and syrups can also be made from the Hibiscus flower.
Nutritional Content
The Hibiscus plant is rich in nutritional components such as proteins, dietary fibers, fat, carotene, riboflavin, anthocyanins, ascorbic acid, niacin, iron, and vitamin C. Hibiscus has also been found to be a good source of minerals like phosphorus, magnesium, and calcium. Hibiscus plant is packed full of antioxidants and vitamins that support an active and wholesome healthy life.
These statements made in this informational page have not been evaluated by the Food and Drug Administration. This product is not intended to diagnose, treat, cure or prevent any disease. As always, it is essential to consult with a healthcare professional before adding any new dietary supplement to your routine.